Road Design in Cold Regions (Engineering SoundBites)
Free download. Book file PDF easily for everyone and every device. You can download and read online Road Design in Cold Regions (Engineering SoundBites) file PDF Book only if you are registered here. And also you can download or read online all Book PDF file that related with Road Design in Cold Regions (Engineering SoundBites) book. Happy reading Road Design in Cold Regions (Engineering SoundBites) Bookeveryone. Download file Free Book PDF Road Design in Cold Regions (Engineering SoundBites) at Complete PDF Library. This Book have some digital formats such us :paperbook, ebook, kindle, epub, fb2 and another formats. Here is The CompletePDF Book Library. It's free to register here to get Book file PDF Road Design in Cold Regions (Engineering SoundBites) Pocket Guide.

I'm excited about the synergies this merger will create, and the unification will greatly assist in long-term planning for our organization. July kicks off the next five-year Capital Plan. It's been a big time investment for many people throughout the organization and the University as a whole. I really appreciate the hard work from all involved! You can read more about those results in Penn State News. What's become evident to me during the past year is that there are numerous versions of missions, visions and values across the University.
Many are long and hard to remember, and even harder to connect yourself to as an employee. As a values based organization, our goal is to have a clear set of core values we all understand, can implement, and connect with as organizations and individuals. I look forward to sharing more on this topic in the near future. Along with our values discussion, much of the OPP leadership has recently been through a series of Taking Action trainings centered on having candid conversations.
Hopefully you will start to see the Candid Question boxes and questions showing up in some of your meetings. I'm looking forward to my first full summer as a State College resident. My family and I are excited to experience 4thFest, Arts Festival, and all of the other great activities and events in the area.
If you see us out and about, please don't hesitate to stop and say hello. I hope you all have a safe and wonderful summer! I'm amazed at the transformation of this campus in the last few weeks.
Download PDF Road Design in Cold Regions (Engineering SoundBites)
After a very long winter, the warm spring weather has finally arrived and I need to express my appreciation for how great campus looks heading into Commencement and the busy summer ahead. It's hard to believe that almost a year ago this week I was here on campus interviewing for my new role as the Associate Vice President and Chief Facilities Officer here at Penn State. It was a wonderful decision and my family and I are starting to feel like this is really home.
Guide to Journalism and Design.
Writing for research?
Stork Group "Safety Soundbite" November - Stork?
Building Websites with VB.NET and DotNetNuke 4.
I'm also looking forward to this summer and experiencing OPP's busiest time of year. Along with the crazy busy work load that summer brings, I do plan to take a little time with family. In the coming weeks, while many on campus will be catching their breath, OPP will remain in high gear. We not only have big events to prepare for, such as the Special Olympics, 4thFest, and ArtsFest, but we are also increasing our focus on construction projects and maintenance efforts.
As always, I appreciate the hard work and dedication you all show day in and day out. But don't forget to take a little time this summer to focus on family and fun while we all enjoy the nice weather. Don't forget about the Spring Celebration on Monday, May 7. We have two sessions planned and I look forward to connecting with you all and celebrating another fantastic year. It's been a busy so far and I continue to learn a lot about OPP and meet more and more of you. I have had the opportunity and pleasure to get out to about 17 safety meetings with our Safety Office team.
I want to thank you all for chatting and truly appreciate the candid conversation. I am looking forward to more opportunities to continue to meet with you all. Please know that we are working on following up on some of the concerns you have brought to our attention, including, for example, the traffic signal at Stadium West. The Spring Celebration planning team is busy putting together another great event.
This year, we are planning to present the Spirit of Physical Plant Awards at the event and I am pleased to share we're adding a new award to recognize outstanding teams of people within our organization. It's important to recognize our teams because the success of OPP is based on people working together in support of values we hold dear, such as community and respect.
We hope this award will be one way to honor the great work of numerous people. One final note, coming up I'll be attending an offsite with OPP's senior leadership team to solidify our organizational goals moving forward. Following the offsite, we'll be sharing those high-level goals with all of you, as well as any other pertinent information from our meeting. Despite some unseasonably warm temperatures in the past few weeks, it looks like we're not quite out of winter yet.
Stay warm and stay safe when traveling and working outside, and as always, keep up the great work! I hope your is off to a great start!
Read PDF Concrete Pavements (Engineering SoundBites)
I'm looking forward to a year full of opportunities and growth here at OPP. Steve Maruszewski and I have been attending a number of Safety meetings lately and it's been a great chance to get out and meet more and more of you. We've received a number of suggestions and ideas to help OPP improve.
Please keep those coming! In addition, to the University Park buildings, we'll also be reviewing Commonwealth campus facilities also in need of major maintenance. The goal is to prioritize the facilities for strategic investment within the next capital plan. The investment will ultimately help alleviate the amount of reactive maintenance performed and let us focus more on preventive work. With that said, I want to personally express my gratitude to the many OPP employees who assisted with facilities issues during the cold snap over winter break.
With 44 tech service employees hours and 21 staff employees hours , there are simply too many individuals to name, but please know your responsiveness, diligence and commitment to your job and the University did not go unnoticed and was greatly appreciated. You truly take to heart what it means to be a Penn Stater, and it was wonderful to experience the sense of support shown by all of you during those challenging times. It's the most wonderful time of the year!
Or so the lyrics of that old song go. I hope over the next two weeks you have the opportunity to spend plenty of quality time with your family and friends, catch your breath and recharge, and enjoy the magic of the holidays. While the holidays can be a wonderful time of year, they can also prove challenging and stressful. As many of you may have heard, an employee at Penn State Beaver was a victim of domestic violence while at work.
Our thoughts and prayers are with the family at this difficult time. With that said, please look out for one another at all times, but especially during the holidays. Please know there is help, support, and resources out there should they be needed. Do not hesitate to reach out if you need assistance or know a coworker who may need help.
Workday launched a few weeks ago with great success. As with any new program or initiative, it will continue to be a learning experience and we have a few glitches here or there. I encourage everyone to exercise patience and work with our leaders to identify any issues to get them resolved as quickly as possible. Please remember to have timecards in and approved on time. I hope you all had a chance to enjoy our pleasant and extended fall before our first snow last week. For those that went hunting, I hope you found success.
I am still unpacking and was unable to make it out this year, but am looking forward to exploring the surrounding area and getting to know the land so I can find my new favorite hunting spot and fishing hole. See you in ! So far it's been a busy fall for OPP on campus and I want to take a minute to thank you for all the hard work you're putting in for everything from the day-to-day maintenance to special events and football games!
Your work does not go unnoticed and the impact our operations have is felt across the University. Things will not be slowing down as we head into November and December and get ready for the wintery weather. As a reminder, clocks go back this weekend and that means days are getting shorter and the weather colder. Please make sure you take the time to be safe by being seen, especially those working out and about around vehicles.
Its use will affect all of us I've used Workday at Cornell and after the initial learning curve, I found it to be a great improvement. Although I didn't have to use it for timecards so I'm not sure what that will look like exactly, but everything else I did with Workday was very user-friendly.
As a reminder, because this is a new system--please make sure you get timecards in on time. Here are some high-level things to remember:. Staff Exempt Employees : Enter time off absence in Workday, as well as instances that would affect pay; i. Staff Non-Exempt Employees : Enter both time worked i. As a follow-up to some conversations I've been having with folks, it's come to my attention that some folks are struggling with finding parking while trying to get their job done.
I also understand there are a lot of people competing for not only limited service parking, but also general campus parking and this creates conflict sometimes resulting in tickets. I am working with leadership to find a way to address this issue moving forward. In the meantime, please do your best to minimize disruption don't park someone in, stay away from reserve spots, etc.
After all, we are all trying to get the job done. Finally, I want to thank those who have participated in the University-wide Values and Culture Survey! The results will help me determine where we are meeting your expectations so we can do more of that moving forward, as well as better understand the stressors and barriers. My leadership team and I will be able to focus our resources on the most impactful issues.
Improving forecasts for rain-on-snow flooding
It's been a fantastic whirlwind and I know I'm just getting started. Safety is of key importance for all of us here in OPP. I want to remind everyone in OPP that safety is a personal responsibility, but also that my entire team and I are focused on it.
You will see more information coming out through the toolbox talks I hope will help keep the safety focus out front. I care about OPP and each on of your and that means I care about you working and playing safely. Unfortunately, we've had an increase in injuries so far this year, particularly sprains and strains, which are often preventable. Please take a moment to reset your thinking about safety and pay special attention to the quarterly safety meetings focusing on this topic. I ask that you pay extra attention to the rules and regulations regarding safety attire and procedures, but more importantly make this a priority in your work day.
I'll be sharing some definitive expectations around safety to help as we take a fresh look at our programs and ensure we lead the way in this area.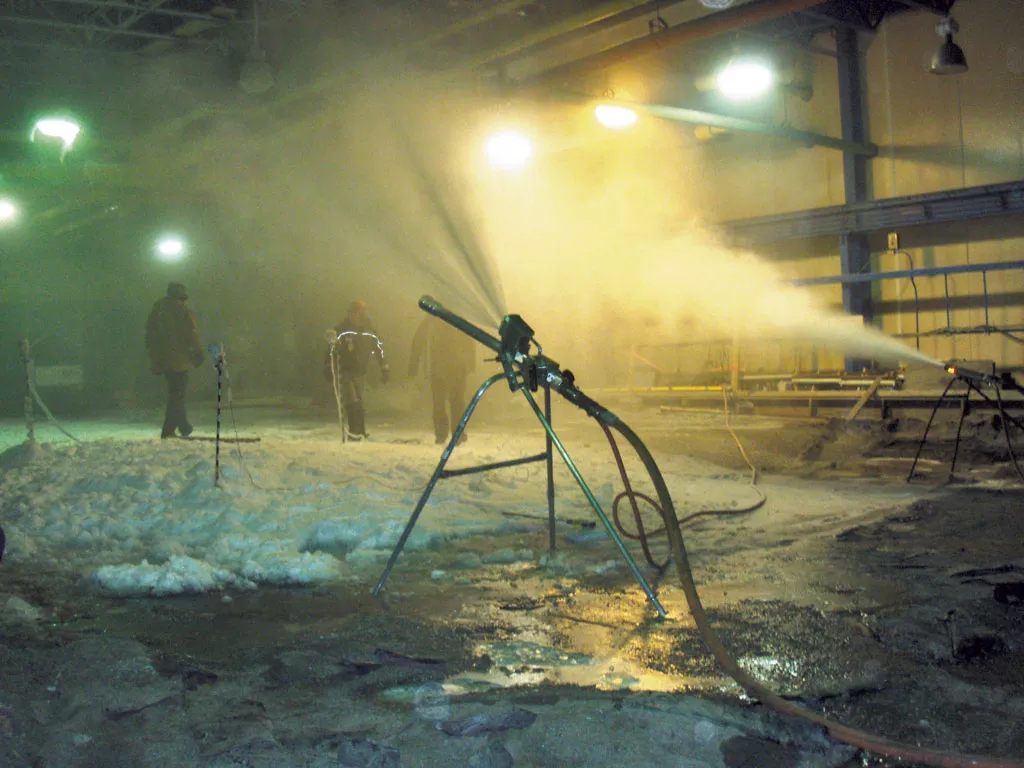 I recently had the opportunity to meet with crew members of Renovation Services.